Bringing Help to Disaster-Stricken Pakistan
Over 569,000 houses across Pakistan have been destroyed due to flooding and landslides.
Local Volunteer Ministers have helped more than 5,300 people.
Summer brought catastrophic monsoon rains and melting glaciers to Pakistan, unleashing deadly flooding affecting over 14 percent of the country's residents. The Indus River that runs the length of Pakistan has become a virtual lake in some areas, turning villages into islands surrounded by unhealthy, contaminated water. With 33 million people in dire need of shelter, food, clean water and medical care, it is a humanitarian crisis of epic proportions.
Always poised to help those in need, a large team of local Volunteer Ministers mobilized to provide succor to the people of Pakistan. Emergency IAS grant funding was provided for a VM disaster response project, providing for two months of lodging, food and transportation for 100 Volunteer Ministers (VMs).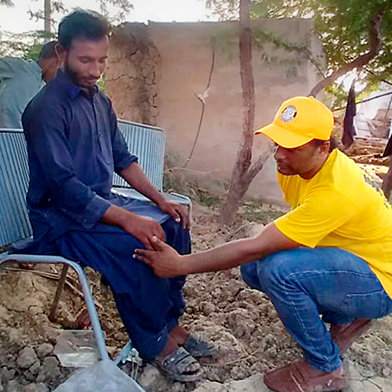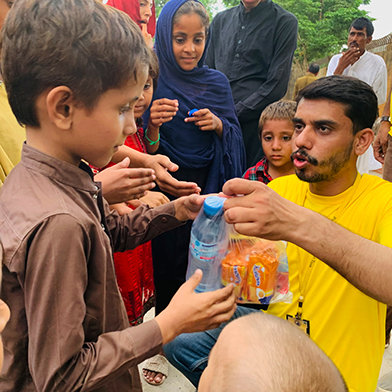 Volunteer Ministers from across Pakistan provide assists, medication, food and vital supplies to those affected by the floods.
With more than 16 years of experience responding to disasters in South Asia, IAS Freedom Medal Winner Perwaiz ul Hasan has been leading the coordinated relief effort on the ground in Pakistan since the unprecedented rains began taking their toll. Under his guidance, VM groups in Karachi, Hyderabad, Lahore and Mithi are out making a difference visiting shelters and villages and sharing LRH's VM tools and technology.
BRINGING VITAL AID
Perwaiz and a group of VMs traveled to villages outside of Hyderabad, where they were the first to bring relief. "The flood victims said we were the first ones who really came to help and had courage to come through the few feet of swampland to survey their damaged homes," Perwaiz recalled. "Their suffering is real, the damages are real, they are in great need of help."
Working in oppressive heat and humidity, the VMs—including doctors—provided first aid and medicine. Over two visits to the region, VMs served lunch to hundreds of flood victims, distributed 250 items of clothing and brought cheer to the children through treats, sports equipment and some extroverting games. "They asked us to visit them again, and help them in whatever way we can so we will keep coming back," one VM said.
In Lahore, another team of VMs traveled to the flood-ravaged Basti Ahmadani area. Upon arrival, they talked to locals to find out what assistance was most urgently needed and then got to work, repairing flood-damaged homes. Over the next few days, they distributed 500 meals, held a medical clinic, distributed medicine and delivered assists.
Perwaiz traveled to Maheen and Handel Thebo Village to meet with local VM leaders. In Maheen, he trained 50 people on assists during a VM seminar. In Handel Thebo, the VMs held another medical clinic and distributed supplies, including mosquito repellent and mosquito nets. In gratitude, the VMs were given traditional Sindhi scarves, a local gesture of respect.
The VMs' pure intentions and impressive work ethic have not gone unnoticed. A volunteer from Hyderabad told the Karachi team, "I used to feel that all NGOs are the same. But after seeing you guys, my opinion about NGOs and help totally changed." He added, "You guys are constantly working without taking breaks! That's amazing!"
More than 5,300 Pakistanis have been helped to date, and that good work will continue thanks to support from members of the IAS. It could take months for the waters to recede, so the IAS-backed VM relief effort is truly just getting underway.