CITIZENS COMMISSION ON HUMAN RIGHTS
Psychiatric abuse and injustices terrorize and destroy lives every day. Despite grave warnings that psychotropic drugs can cause violent and suicidal behavior, psychiatrists have prescribed them to over 20 million children around the world.
And every month, these drugs kill thousands of people.
The Citizens Commission on Human Rights (CCHR) was established by the Church of Scientology in 1969—dedicated to eradicating psychiatric abuse and brutality.
IAS grants fund CCHR's educational programs, publications and documentaries that provoke outrage and action to legislate out of existence the abuses of this industry of death.
Today, close to two hundred million people worldwide take psychotropic drugs—and tens of millions of them are children. And it's no wonder, with over $5 billion a year spent on advertising for prescription drugs in the US alone.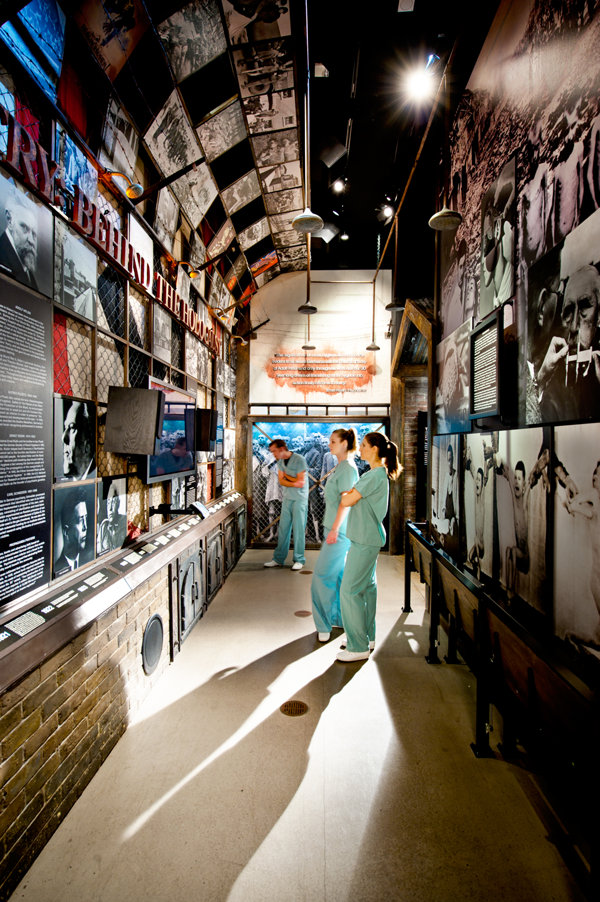 More than a quarter of a million people die each year at the hands of psychiatrists. And right this minute, each year there are hundreds of thousands people incarcerated by psychiatric institutions against their will.
Drawing on his decades of research into the mind, spirit and life, L. Ron Hubbard described abusive psychiatry as the "Sole cause of decline in this universe." Eradicating abuse in the mental health field is the responsibility of every Scientologist, as clearly stated in the Code of a Scientologist. We pledge, "to bring about an atmosphere of safety and security in the field of mental health by eradicating its abuses and brutality."
The battle to end widespread abusive psychiatric suppression is not merely a struggle to save a few desperate souls; it is truly a matter of life or death for 21st century civilization.
In answer to psychiatry's brutal legacy, IAS grants have long supported the Citizens Commission on Human Rights in their global campaign designed to put a permanent end to psychiatric abuse.
The campaign is centered around the Psychiatry: An Industry of Death documentary. This two-hour film is the most comprehensive visual history of psychiatry ever produced. It forms the core content of the Psychiatry: An Industry of Death Museum located at the CCHR International headquarters in Los Angeles, California. Hundreds of thousands of people have toured the museum, including nurses, medical doctors, and civil rights advocates. Dozens of colleges include the Industry of Death Museum in their official curriculum for student credit.
To expose the truth of these abuses everywhere, the documentary is also used in the multimedia exhibits that travel city to city, timed to coincide with psychiatric conferences and conventions.
The IAS then sponsors mailings of information portfolios containing the Psychiatry: An Industry of Death documentary as well as the full arsenal of CCHR documentaries, each exposing a separate facet of psychiatric criminality. These are sent to physicians, personal injury attorneys, parent-teacher associations, prosecutors, legislators—and anyone capable of bringing psychiatry under the law.
To date, CCHR has effected the enactment of more than 150 laws protecting citizens from psychiatric abuse. CCHR works tirelessly through 200 chapters across 34 nations, to bring about the day when psychiatric abuse is legislated and prosecuted out of existence forever.

As CCHR relentlessly continues to expose and eradicate psychiatric abuses in the field of mental health, those whose lives have been changed with CCHR's help get on board to continue the fight:
The knowledge that just one of my students acquired after going to the CCHR museum saved her child's life. How many mothers don't have that opportunity to ask advice because the majority of mothers believe the people with M.D. on their white coat? They don't know enough, but now they have a way.
The documentary Dead Wrong ignited this passion to tell everyone else what's going on. I'm out there spreading the word. Because of IAS support, I have my son and I have my family. Continue your support. You're saving lives. There's nothing that could be better.
I have been on psychiatric drugs for 30 years which have caused many side effects and poor health. I have been trying to discover a way to be free of psychotropic medication for over a decade. My path finally led me to CCHR. I have been off psychiatric medication for almost six months now. I am eternally grateful to CCHR and will forever be an ongoing member. Thank you for changing my life.
We are in a very dangerous place in our society when psychiatrists are allowed to force harmful, dangerous, lethal drugs upon children. I got a call in the middle of the night regarding the illegal removal of a child. This was a drug that the mother had a right to take her child off of. It was killing her child. I got calls from all over. But then I got a call from real help—CCHR! We had facts, we had statistics, I was educated on the drugs to know what the side effects are. And CCHR didn't just drop the information, they were there. Because you don't just go into court and just start arguing. You need tools, you need information, you need experts, and CCHR stepped up truly. They had our back. You're not going to pick on us. We're going to tell CCHR and it's CCHR to the rescue!
The kit helped me personally… I had undergone more than five years of treatment, including several different diagnoses. When a psychologist told me about the documentary, I became interested because it could be a way to get rid of so much medication. I had had enough… Today I am a normal person, with ups and downs, but I can do everything without any remedy.
We took up a case in which a mother had been deemed unfit by a psychiatrist, and so her two daughters were taken away. Together with CCHR we utilized newspapers and television, talking about the actual case. In the end, the mother—as proven by facts, and obviously with our help—was a mother, and above all, a human being. Now, for the last three to four years, the daughters have been with their mother. CCHR has given me the chance to give a voice to those who don't have one.
I wish I had known this many years ago. This film could have saved 35 years of grief that I have personally had in trying to find the truth bit by bit, piece by piece. It could also save years of personal pain to yourself or a loved one.
When I visited the Industry of Death Museum, I came out angry and astonished at what I had seen. It was heartbreaking. I was very surprised that there was a museum that was willing to show that to people.