Volunteer Ministers Answer The Call For Help In The Bahamas
Category 5 Hurricane Dorian was the strongest hurricane to hit the Bahama Islands in its history.
Tens of thousands of residents on the northern islands of Grand Bahama and Abaco have been left homeless.
An estimated 13,000 structures were damaged. Vast areas of Abaco and Grand Bahama islands were submerged under—up to 20 feet deep in places.
On Sunday, 1 September 2019, Hurricane Dorian struck the Bahama Islands with winds of up to 185 miles an hour (295 km/h). The category 5 hurricane was the worst storm in the island's history.
It flattened whole communities and submerged them under water, damaging more than 13,000 structures and leaving tens of thousands homeless.
With no delay, the IAS provided an emergency grant to mobilize a large team of VMs and to bring supplies to the disaster zone.
As the airports and ports suffered major damage and access was very limited, VMs reached the islands by small planes and boats, bringing in supplies daily as they came.
The first team of VMs went straight to the worst hit area—the eastern end of Grand Bahama Island—to bring immediate aid. Traveling by foot for hours along flooded roads, they came across 200 survivors who were in desperate need of food and water as no one had come to help them since the hurricane struck.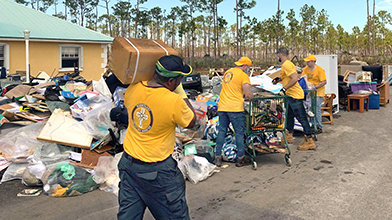 There are now over 40 VMs on the ground with more arriving every day. Hundreds more are working from Florida and other parts of the U.S. to round up supplies. In the last week, the VMs have brought in thousands of hygiene kits and food for the victims, generators to provide power for shelters, and chainsaws for the search and rescue teams to use to clear debris as they search for survivors.
The VMs are doing anything and everything needed to help survivors, from distributing food, water and supplies, to cleaning up flooded houses. They are clearing away fallen trees and debris and organizing up distribution of the donated supplies arriving to the island.
Given the scale of devastation, more VMs are needed—either at the disaster zone or to collect up supplies. Due to the very harsh conditions in the Bahamas, those who are physically strong or who have special skills such as medical training, rescue training, or construction will be given priority to join the VM team. If you would like to volunteer in any way, please contact the International VM Headquarters in Los Angeles at: 1-800 HELP-4-YU (1-800-435-7498).
The IAS continues to provide support for the disaster relief in the Bahamas. If you want to help by supporting the IAS, do so—all donations make a difference. This is just one of the vital grants made possible through your support of the IAS.