Volunteer Ministers Bring Vital Aid to Flooded Italian Region
The flooding in the Emilia-Romagna Region in May has been described as Italy's worst flooding in over 100 years.
Since the start of the year, VMs have helped more than 340,000 people around the world.
In mid-May this year, torrential rain poured down on Italy's northern Emilia-Romagna Region, triggering floods and landslides. According to meteorologists, 1.6 feet of rain fell over the course of 15 days—more than half the average annual rainfall for the region. After months of severe drought, it was the second time in weeks that Emilia-Romagna was battered by wet weather, and the severely dried-out land simply could not absorb the sheer volume of water as rivers overflowed or broke their banks. Flooding ensued in 43 towns and cities, leaving upwards of 36,000 people homeless and causing more than a dozen deaths. Many were isolated in their homes, in need of food, water and other supplies. In addition to flooding, more than 400 landslides contributed to the closure of over 500 roads. Whole neighborhoods were left underwater with homes, factories and shops rendered uninhabitable, and thousands of acres of fertile farmland were destroyed, impacting at least 5,000 farms.
Volunteer Ministers (VMs) were deployed right away and provided assistance on the long road to recovery. VMs were activated from the closest Scientology missions in Cesena, Modena, Ravenna and Senigallia, as well as from the Padova Org.
Working directly with Civil Protection Services, the government entity that handles emergency management, VMs took on tasks as they were directed in the hard-hit Cesena, Forli and Ravenna areas. Outfitted in their signature yellow VM jackets and T-shirts, teams of Volunteer Ministers cleared mud from roads and buildings. They also helped to dispose of tons of debris and water-damaged items removed from buildings that were lining the streets and distributed meals to displaced families.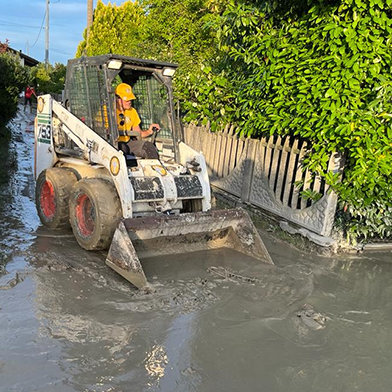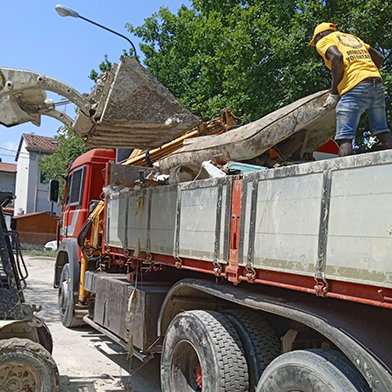 In the city of Cesena, one of the worst-hit areas, a team of VMs clear mud and debris from the streets with the aid of a Bobcat bulldozer and a truck. They brought this to landfill sites, along with flood-damaged furniture removed from homes and businesses.
In the city of Cesena, the VMs removed waste, mud and furniture from homes, schools and shops and loaded it into trucks, which they brought to landfill sites. With the aid of a small Bobcat bulldozer, they cleared mud from the streets to enable cars to pass.
In Forli city, Civil Protection representatives directed the VMs to help clear several homes that were inundated with water and sludge. A large team of VMs also helped remove mud from the streets. At the request of a police inspector in Forli, VMs coordinated with the Civil Protection Department to get a vacuum tanker to help them clean up an apartment building that was heavily inundated with mud and water.
Across the flood-affected areas, more than 130 VMs participated in disaster relief activities, volunteering some 3,500 hours to help those affected.
Everywhere the VMs went, local residents, government officials and media thanked them for their unconditional help. Inspired by the VMs' willingness to help and their motto, "Something Can Be Done About It," some locals joined their efforts, wanting to lend a hand.
The disaster in Emilia-Romagna is one of many that VMs have responded to in recent months. So far this year, some 3,500 Volunteer Ministers have assisted more than 110,000 people worldwide directly affected by disasters and over 340,000 people in all. Thanks to the support of IAS members, their work will continue to make a meaningful impact whenever—wherever.
If you or someone you know would like to help at disaster sites, contact the VM Unit International at:
Email: disasterresponse@volunteerministers.org
Phone: +1 (323) 960-1949