Volunteer Ministers Provide Help as Fires Rage in Australia
This year has become one of the worst fire seasons on record in Australia, with over 100 bushfires burning simultaneously.
The fires in New South Wales have destroyed over 4 million acres of land and 600 homes.
Thousands of firefighters are working day and night, as bushfires rage across several states in Australia.
The country is known for its expansive wilderness and frequent bushfires, but this year's fire season hit fast and furious with over 100 fires burning at the same time across the country. The southeastern state of New South Wales, home to Sydney, has been the most severely hit with more than four million acres of land burned and 600 homes destroyed.
The extreme dryness and low humidity sparked the devastating wildfires—creating a "perfect storm" for one of the worst fire seasons on record for Australia.
To bring immediate help to the firefighters and those affected, the IAS has provided an emergency grant to mobilize a team of VMs to the disaster zone.
The VMs wasted no time in finding out where help was needed most. With the hundreds of exhausted firefighters working 24/7 to fight the blazes, they were asked to be the support team for the fire crew. The VMs were immediately given a space in the Firefighter Command Center, located just one hour outside Sydney and close to one of the largest fires.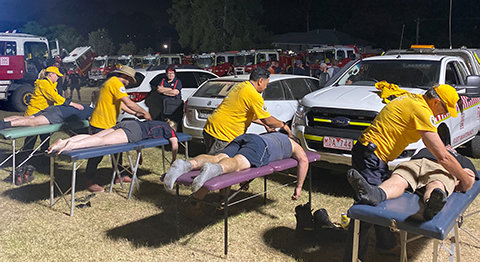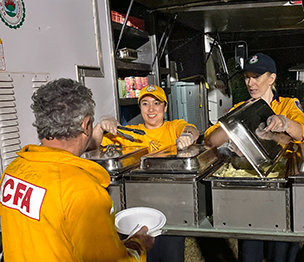 VMs have been working day and night shifts to deliver assists to the emergency personnel, bringing much needed relief from the strain and extreme tiredness of fighting the fires. With each assist, VMs could see the energy and renewed strength return to the firefighters. After receiving a nerve assist, one of the firefighters told a VM, "It was absolutely fantastic. I went in with a headache and tension and I've now come out with my headache 95 percent gone and I feel really good." The Commander of one of the fire teams publicly thanked the VMs after receiving an assist, stating that he felt lighter because of it.
The VMs have become a bright yellow beacon of help at the base camp and a stable point of support for the emergency personnel. One local volunteer stated, "I have been volunteering my whole life and my parents were volunteers, but I have never seen volunteers like you Scientologists. You go hard, you don't complain and you just get the job done. You have done so much for our community."
Given the scale of devastation, more VMs are needed in Australia. If you would like to volunteer in any way, please contact the International VM Headquarters in Los Angeles at: 1-800 HELP-4-YU (1-800-435-7498).