Volunteer Ministers Answer the Call to Help Their Communities
From Los Angeles to Budapest, Panama to Madrid, Scientology Volunteer Ministers from around the world are taking action during the COVID-19 crisis to bring help.
Whether it's delivering masks and vital supplies to frontline workers or making meals for those in need, VMs are reaching out to their communities to deliver what's needed most.
Madrid, Spain: When two Scientologists learned that hospital workers, first responders and police were in desperate need of disinfectant, they used their company to produce over two tons of sanitizing liquid to help fill the immediate need. They then donated 5,000 bottles of sanitizer to Madrid hospitals, 1,200 to the city administration and 500 to local police. As news of their help spread, they heard there was a large shortage of face masks for hospital staff. Using their resources, they acquired thousands of face masks and gave these to hospital medical personnel.
Los Angeles, California: An actress and Broadway star from Los Angeles decided to take action in her neighborhood to spread calm. She distributed the How to Keep Yourself & Others Well booklets to her neighbors as a stable datum in the wave of confusion. To stay connected, 40 households in her neighborhood began playing music from their windows and porches. From drums and guitars, to harmonicas and pots and pans, the neighborhood "concert" became a nightly tradition. For the last few months she has lent her Broadway voice to the melody, to help keep the community connected and uplifted.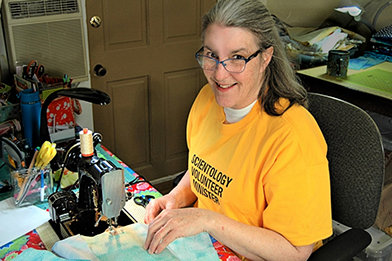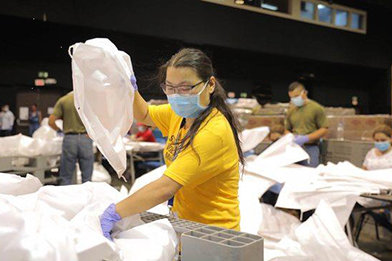 Seattle, Washington: A local VM decided to make masks from home as she saw firsthand how her family members overseas and frontline workers were without protection. "I started this by making some masks for my brother whose kids live in the Philippines," Linda says. She found out that they had no masks, so she sewed them and shipped them to her family. Since then she has been using her skills to make over 25 masks a day for the frontline workers in Seattle.
Los Angeles, California: IAS Patron and Volunteer Minister Dennice Tabor took part in a major Red Cross initiative to provide meals to kids from the Los Angeles Unified School District, the second largest school system in the United States. With more than 80 percent of the half a million children needing meals twice a day—the task was large. Since COVID-19 struck and the closure of the schools, most families were struggling to feed their kids. Using her VM training, Dennice was able to organize and streamline her group for maximum efficiency. In all, the large team of volunteers put together ten million meals for children across Los Angeles.